KLA FUKUOKA / introduce Fukuoka prefecture, Fukuoka City,Umi Town
Hell everyone! We are KLA FUKUOKA.
"What is Fukuoka like?"
"Where is Umi-machi?"
…Someone may think like those.
Fukuoka is not as famous as Tokyo and Osaka but comfortable place to live.
In this time we are going to introduce Fukuoka and Umi-machi.
◆Fukuoka prefecture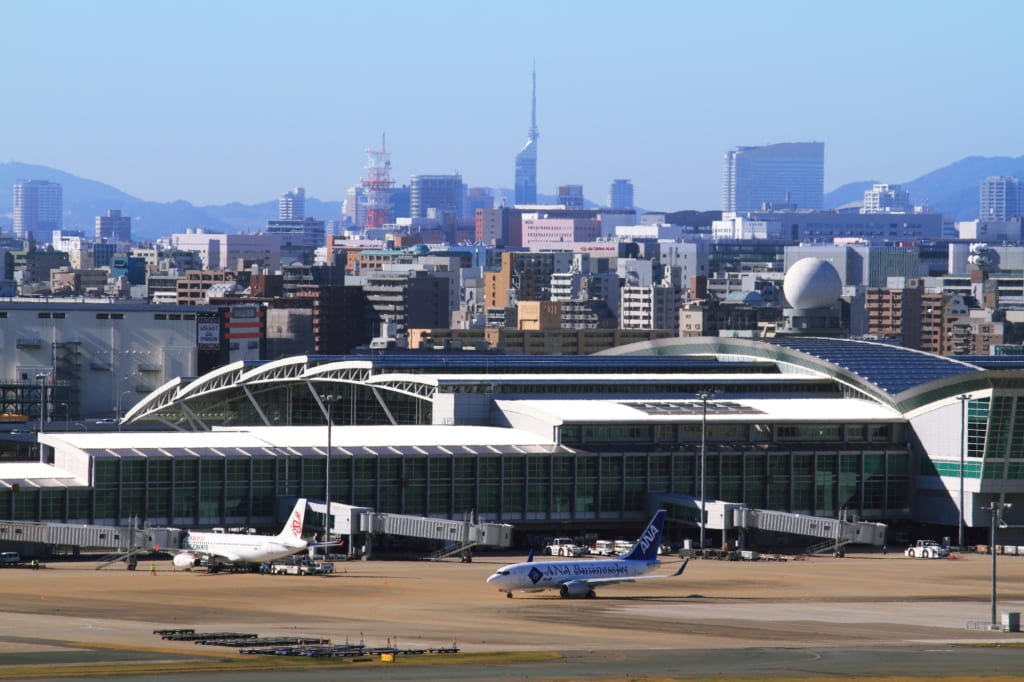 Fukuoka is called as the gateway of Asia,
where is very close to Asia, half and one hour from Shanghai by air,
three hours from Busan by Beetle ( a high-speed ship ).
There are many direct flights at Fukuoka international airport,
which are to China, Korea, Taiwan, Vietnam, Philippines, Malaysia and so on.
Fukuoka City is the biggest City of Kyushu area.
Tenjin is the center of Fukuoka City,
where many office buildings stand close together in
or some department stores and amusement facilities are.
Kyushushinkansen starts at Hakata station
that is the most important point in Kyushu area.
Hakata is an old business district with some commercial complexes
where is crowded with many people both weekdays and weekends.
▲Tenjin                                   ▲Hakata station
There are a lot of sightseeing spots
such as "Fukuoka tower" is the landmark of Fukuoka City,
"Pay Pay Dome" is the baseball stadium
for regular season's games of professional teams,
"Canal City Hakata" is the shopping mole visited by many foreign tourists.
▲We visited "Fukuoka tower" for a school event!
From Fukuoka City going a little way further to,
you get to "Dazaifu Tenmangu",
one of the most famous shrines countrywide,
enshrining the deity of learning.
The students of KLA FUKUOKA visit here
every New Year to pray for pursuing their studies safely.
▲We went on the first shrine visit of the New Year!
▲ "Goshingyu", the holly ox,
some visitors pat its head in the hope of becoming wiser.
Please watch Fukuoka City official you tube to know other charms of Fukuoka.
Click here (https://www.youtube.com/watch?v=CLxntu0QIFA&t=233s)for Fukuoka City official sight.
◆Umi-machi
Umi-machi is a bedroom town of Fukuoka City,
so you can get here only 30 minutes from the center by car.
KLA FUKUOKA is a 15 minute walk from Umi station.
Umi-machi is a suburb of Fukuoka City,
then there is a lot of green around the school.
But Umi- machi has some large drug stores,
several supermarkets, lots of convenient stores,post offices, banks and so
within the student's living area. You may live in comfort here.
"Umi Hachimangu" which is a hystoric shrine,
where many people visit all year around.
You can feel the good old Japan,
for example, a Japanese sake berewery
and a factory of Hakataori textile in Umi-machi.
▲Visiting "Umi Hachimangu" on New Year's day.
Please check the movie
about nice spots of Umi-machi and surroundings of the school.
How did you like it?
Did you imagine your study abroad life in Japan?
Next time we will introduce the senior students
who have fully enjoyed such study life as that in Umi-machi, Fukuoka☺
========================
Here is Facebook
We keep sharing information of
the students and school updates regularly.
========================