KLA FUKUOKA / Introduce extracurricular activities
Hello everyone!
In this time we are going to introduce about extracurricular activities
such as school and yearly events.
…and so, since 2020 most events have been stopped
to protect the students' health against covid-19
that is prevalent all over the world.
So it is difficult that the students make fun memories now.
Today we want to introduce what school events were held each season.
(The plans will be changed every year. Please use this as a reference.)
●Spring: from April to June
Join the parade in Hakata Dontaku Festival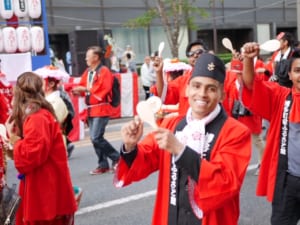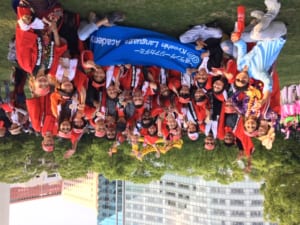 Hakata Dontaku is the biggest festival in Fukuoka with 2 million visitors.
The students joined it. They paraded down a street wearing the same Happi coats
and holding the special rice scoops in each hand
in chorus "Iwotaa~, Iwotaa~" which means "congratulations".
Fukuoka City tour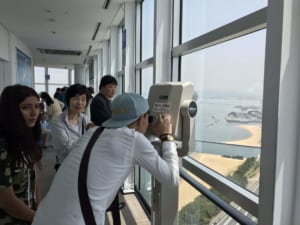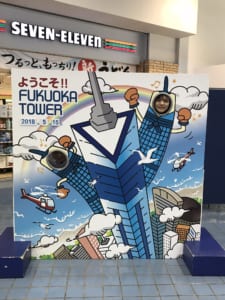 We went up all together Fukuoka Tower.
This tower of 234 meters is a symbolic building of Fukuoka City
which is the tallest beach tower in Japan.
You can enjoy a beautiful scenery of cityscape and sea
from top of this tower.
●Summer: from July to September
School summer festival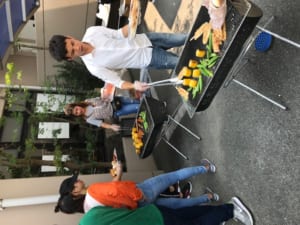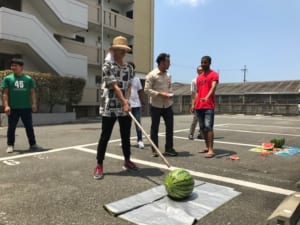 We set up food stalls is an essential in Japanese summer festival.
The students enjoyed moment before summer vacation
with eating Hashimaki, Japanese shaved ice and Somen noodle
and playing a traditional game, "watermelon splitting".
●Autumn: from October to December
Fukuoka zoo & Botanical garden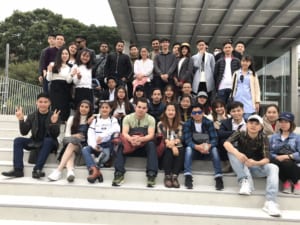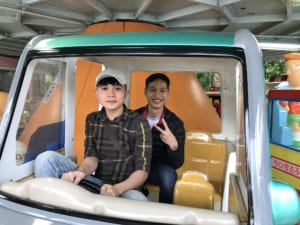 We went to Fukuoka zoo & Botanical garden.
There are 102 species of animals there.
Some of them are endemic to Japan.
School Christmas party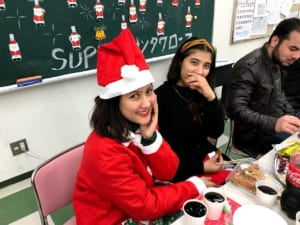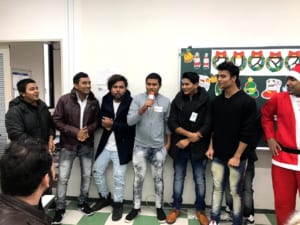 The students prepared for a party in advance
such as decorating and setting up a venue.
Everyone feel open on the last day of classes in December
as winter vacation will begin from next day.
You would get a nice present if you win bingo game.
●Winter: from January to March
Dazaifu Tenmangu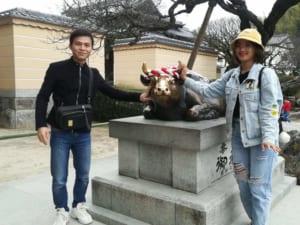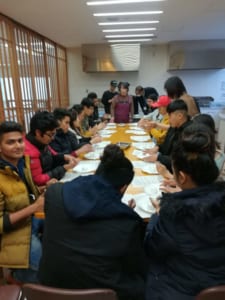 New Year we visit a nationally famous shrine, Dazaifu Tenmangu
enshrining the deity of learning, culture and arts.
So you could have a great effect if you pray for your success in school.
HUIS TEN BOSCH / Day trip to Aso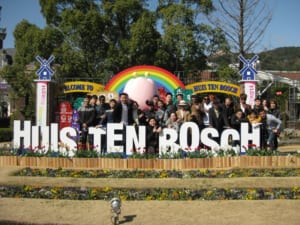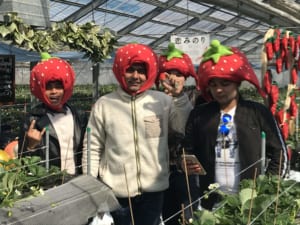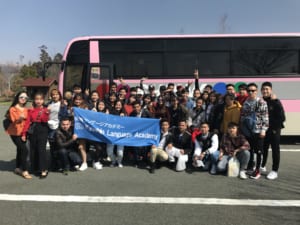 The students take a day trip to outside Fukuoka
for studying and graduation trip of second year students.
There are many sights in Fukuoka and also good places to see neighborhoods.
We went together to HUIS TEN BOSCH in Nagasaki and Aso in Kumamoto.
We would like to have activities
that the students think "I am so glad to have studied in KLA FUKUOKA"
in such a limited time as a year and a half or two years here
through experience of contacting with Japanese culture
and knowing one side of Japan.
========================
Here is Facebook
We keep sharing information of
the students and school updates regularly.
========================