Obtain high-level Japanese communication ability
"I want to speak Japanese!" "I want to continue my education in Japan!" "I want to use Japanese for work!" Despite differing goals, the desire to obtain Japanese communication ability is common to all people studying Japanese in Japan. At Kyoshin Language Academy Kyoto Ekimae School, we avoid the rote memorization of other Japanese language schools and instead offer a curriculum centered on "Listening in Japanese" and "Speaking in Japanese."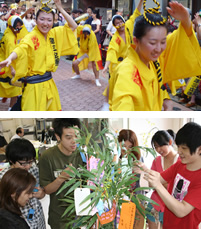 Understand Japanese culture
If you're living in Japan, and living in Kyoto, it is a waste to only study Japanese. In Kyoto, a city where daily life brings contact with traditional Japanese culture, you will undoubtedly be able to gain a deeper understanding of Japan. Additionally, the door to rediscovering your own culture awaits. We provide:
Cultural activities built in to school events
Japanese cultural activity tours (Optional, 6 times per year)
There are numerous other programs for international students in Kyoto.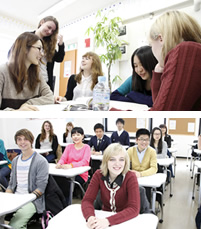 International exchange
In the international city of Kyoto where people gather from around the world, you will be able to create a diverse network of friends and contacts with Japanese university students, locals, and international students from every corner of the globe. We provide:
International exchange opportunities and casual conversation opportunities with Japanese students and office workers
School and Company visits
There are numerous other programs for international students in Kyoto.
Gain valuable experience for the future
Continuing education
For people intending to continue their studies in Japan, immediately after entering the school you will be able to take our Examination for Japanese University admission for International Students (EJU) preparatory class in English! As a continuing-education preparatory school, Kyoshin utilizes years of experience to offer English-taught EJU preparatory classes for students wishing to continue their studies in Japan. Thanks to English-language classes, you can immediately begin studying math, chemistry, physics, and more regardless of your Japanese abilities and utilize your time to its fullest.
Employment
For people who wish to work in Japan or utilize Japanese in the workplace, high-level Japanese communication ability is essential. At the Kyoto Ekimae School, we have designed our daily curriculum to cultivate high level Japanese communication abilities. Additionally, we offer career counseling with advice ranging from looking for companies to writing an impressive resume. We also offer job-interview practice.
Qualifications and career enhancement
For people seeking to obtain qualifications and enhance their careers, passing the internationally recognized Japanese Language Proficiency Test (JLPT) can be useful for obtaining employment, raises, promotions, certifications, and college credit. At the Kyoto Ekimae School, we incorporate JLPT preparation as part of our regular curriculum.
Kyoshin Language Academy has 3 Japanese language schools in Tokyo, located in Shibuya, Shinjuku, and Akihabara. We are also accepting new student applications for our 3 Tokyo schools!


Where is it?

A 3-minute walk from JR Kyoto Station! View Larger Map
What is the length of study?

You have various course length options of 6 months, 1 year, 1.5 years, and 2 years.
You can choose the course length that is most appropriate for your goals. We also offer short-term courses.
Do you have any tuition exemption or reduction programs?

We have tuition exemption for honor students, among other programs. Please contact us for further details!
What about housing?

At Kyoshin Language Academy, we have prepared various housing options from apartments to share houses so that all students can begin their new lives in Japan worry-free.
If you have questions about Kyoshin Language Academy, how to study Japanese,
life in Kyoto, or anything else, please do not hesitate to contact us!